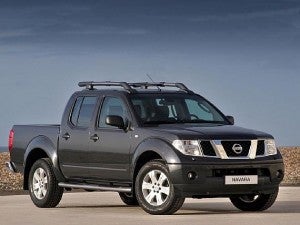 In the UK, the current Navara is available with the largest bed space and a market leading 174 bhp (130 kW; 176 PS) (169 bhp (126 kW; 171 PS) on post September '06 vehicles with the introduction of the Euro IV compliant engine). With its four specs, the S, SE, Outlaw and Aventura, the Navara has the ability to cover all market areas. The Aventura trim package is nicely equipped, to include such items as leather upholstery, Dual Zone Climate Control, 6 CD/MP3 changer and satellite navigation as standard.
In Australia, New Zealand and South Africa, the D40 Navara has a few differences from the UK versions. There are 2 engines available, the popular common-rail 2.5 liter Turbo-charged Diesel engine and the V-6 petrol. The Diesel engine in 4WD models produces 128 kW (172 hp) at 4000 rpm and 403 N·m (297 lb·ft) at 2000 rpm, with the 2WD models producing slightly less at 106 kW (142 hp) at 4000 rpm and 356 N·m (263 lb·ft) at 2000 rpm. The high-powered V-6 a breath-taking 198 kW (266 hp) at 5600 rpm of power and 385 N·m (284 lb·ft) at 4000 rpm of torque. Both engines come with a standard 5 speed Automatic, with a 6 speed manual available for the Diesel. These models are not as luxurious as the UK versions and do not have leather, climate control or satellite navigation system.
The 2008 model of the Navara was launched on July 2 2007. Although the same truck underneath, the Navara now had a new style of alloy wheels, bluetooth as standard, side work lights and indicators on the wing mirrors.
The 2008 Single Cab became available in Thailand since March 6. The 2.5 engine reduces the torque down from 356¬†N¬∑m (263¬†ft¬∑lbf) to 294¬†N¬∑m (217¬†ft¬∑lbf) @ 2,000 rpm. Using 15″ wheels and exclusively reserved modified chassis. Power steering is standard, also available electric mirrors and central locking as optional extra. Nissan planned to sell the single cab and began to export worldwide at the same month. Nissan also continue to sell the D22 pickups with minor updates for a cheaper choice (now called as Frontier LCV).
The Nissan Navara Double Cab became available in Malaysia on November 5, 2008. It is available with a 2.5L diesel engine producing 128 kW (172 hp) and 403 N·m (297 ft·lbf), only with a 5-speed automatic. The D22 series Nissan Frontier remains on sale in Malaysia with a manual transmission.
** Information based on Wikipedia entry including additions. Text is available under the Creative Commons Attribution-ShareAlike License;