Coming direct from the USA Proppa.com are now distributing this fantastic new bed cover for the Navara D40.
The all new hard folding tonneau cover is a proppa hard folding cover unlike the current ones on the market which have a material finish which can get dirty and stain this one is finished in solid metal strong enough to stand on.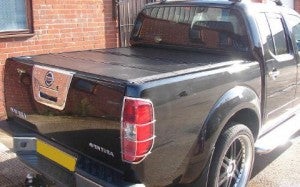 The Proppa Bakflip hard folding tonneau cover is the most popular selling tonneau cover in the world due to its great spec and easy non drill installation.
Absolute all season friendly – 100% resistant to rain snow and the elements
Can withstand over 85 kgs of evenly distributed weight
Individual panels lock so that you can drive with them open or closed
Panels flip open in the same direction
Panels flip open to reveal 100% of the bed if desired
Can be removed within 60 seconds
Proppa hardfolding locks offering outstanding security and sits INSIDE the truck bed rails for an EXTREME low profile look and fit
Works with tie downs, bedcaps, bedliners,etc
Matches door handles, bumper trim, side view mirrors and bedcaps.
UV protected and will not fade, crack, warp, rust or corrode
Made from dual laminated ABS panels with honeycomb core of excellent tensile strength and rigidity
Average cover weighs just 35 lbs.
For more details and to order visit http://www.proppa.com/tonneau-cover-proppa-hard-folding-6675-p.asp.
This and other products can be disussed in the Accessories section at www.nissan-navara.net